My December newsletter is heading out the door tomorrow morning. Here is the message I wrote at the top: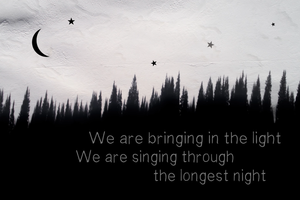 Living through this pandemic has been a struggle on every level, and just when we thought we were seeing the light at the end of the tunnel, we're facing the challenge of Omicron. Sometimes it seems like this night will never end. 
That is the one of the most important teachings of the winter solstice for me. Even in the longest night, there is the promise of coming light. We might not know, and it might not be right away, but the light is coming. All over the northern hemisphere humans have created rituals and religious observances that recognize and celebrate this moment. 
We light candles, we set our houses aglow with electric twinkles, we carry lanterns, we shoot off fireworks. No matter the tradition, just as our ancestors did, we do what we can to bring some light into the long, cold night of winter. 
In that spirit, I would like to offer Gathering Sparks' solstice song "Bringing in the Light", as well as a few other seasonal songs from The Ukulele Orchestra of Toronto. I wish you all a Good Solstice, Happy Chanukah (sorry that one is a little late!), Happy Diwali (apologies that one is even later!!) Merry Christmas, a Joyful Kwanzaa, and all the best for the coming year, no matter what you do or don't celebrate. 
On another note, if you are looking for last-minute gifts, read on for a few ideas. This newsletter also has information on classes and workshops that I will be leading in the new year, including a new "Canadiana Uke" class featuring songs by Canadians. 
Thanks as always for your support, and please stay safe and healthy through this season. May we continue to bring in the light -- and continue to BE the light. 
Keep singing, 
Eve

Read my newsletter or subscribe.