In fall of 2007, thousands of monks and nuns led protests against the military dictatorship in Burma (Myanmar). Their peaceful protests, known as "The Saffron Revolution," were brutally quashed by the military. Hundreds of people were arrested or detained and dozens killed.
I wrote "The Streets of Burma" as a response to those events, and I was honoured when Amnesty International Canada used the song as part of its campaign to free one of the monks who had been detained. 
I had hoped that this song would fade away as Burma moved toward democracy. But sadly it's once again relevant. On February 1st, the military in Burma once again seized control in a coup, detaining leader Aung San Suu Kyi and many other civilian leaders. Peaceful demonstrations taking place across the country for weeks have been met with extreme violence from the military and over one hundred people have been killed.
I'm posting this song again in support of the people of Burma/Myanmar. All proceeds benefit Amnesty International Canada.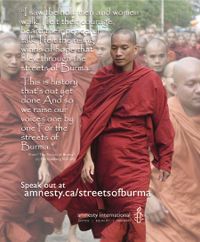 Download the song here.

Please urge the Canadian and US governments to give tangible support to the movements for democracy in Myanmar.
Here is a short explainer about what's happening in Myanmar from CNN.